The QB Crossroads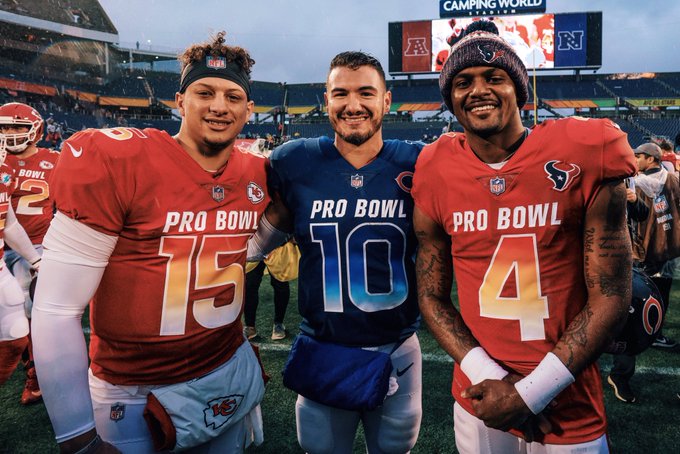 …and some teams will have to pass the buck
Take a look at all the best QB's nearing the end of their rookie contracts or one season away from their teams needing to make fifth-year option decisions on them.
Jameis Winston
Marcus Mariota
Patrick Mahomes
Deshaun Watson
Mitchell Trubisky
Jared Goff
Damned if that isn't an ecclectic little group. Now really quickly, we can mention that Carson Wentz would have been on that list until he signed his big 32-mil-a-year deal this off-season. Basically, these QB's fall into four categories:
Absolutely, Positively Going To Get A Big Fucking Extension
Patrick Mahomes
Likely Getting Paid (in spite of his coaching)
Deshaun Watson
Likely Getting Paid (thanks to his coaching)
Jared Goff
Everything Riding On 2019-2020
Mariota
Winston
As Yet Undetermined
Trubisky
Mahomes, Watson, and Goff have done enough that if their teams didn't give them extensions it would be a massive surprise. Which, if you follow the conventional thinking of roster construction in today's NFL, these teams will suddenly have a massive shift in approach by the end of this upcoming season or next (which, I sure as hell hope, they've already started making contingencies for). Gone will be the flexibility to sign multiple proven veterans. Gone will be the ability to make aggressive moves during the draft. The pressure of every FA addition or trade will be that much more. The wind blowing across their stadium should carry on it Bob Dylan's Times Are A Changin'.
Mariota and Winston have played two more seasons than Mahomes and Watson, and one more than Goff, but have proven much less. Except replace 'much less' with 'jack shit'. Winston has made more of an impact to the legal system while the big dent Mariota had made is in the medical table in the trainer's room. If they don't stay healthy in 2019, they're likely gone. For the Titans, at least they have done a decent job of roster construction such that they could theoretically plug in a low-cost veteran or rookie and be in contention in 2020. Winston, however, has hardly been the Bucs' only issue. A like-for-like move for Tampa would be like a tree falling in the woods with no one to hear it. Then again, I love Bruce Arians like he loves flat caps.
Which leaves the Chicago Bears and Mitchell Trubisky. If any team should be the subject of case studies in roster construction theory, it should be the Bears.
If Trubisky breaks out in a massive way in 2019, this could all be a moot point. In such a scenario, it is highly unlikely the Bears will not pick up his fifth year option and a slightly more likely scenario they will bestow him with a pre-fifth season extension a la Carson Wentz. In such a scenario, see the paragraph for what the Chiefs, Texans, and Rams will be doing to their roster. And if you're a Bears fan, prepare your 'this is how we wasted Trubisky's golden years' argument now (see: Green Bay's 'this is how we wasted Aaron Rodgers' golden years' argument for inspiration).
However, if the Bears falter – or in the darkest timeline event the Bears falter in large part thanks to Trubisky – it would be one of the most exciting stories for cap observers, journalists, and league insiders in years.
The Bears roster as it stands is fairly stacked with excellent players across every position group. More importantly, many of those players have deals coming up for re-negotiation within the next two seasons. If Trubisky flames out, the Bears could have the financial flexibility to once again draft a high-first round QB and surround that player with quality supporting cast.
Sure, this all requires things to break a certain way. It's a fantasy. But it's an ideal scenario for those who are staunch advocates for the approach to roster construction that places very little value on an expensive, proven QB and a greater value on the flexibility of a cost-controlled rookie one. The Bears are, on the dawn of the 2019 season, the team at that crossroads. Will Trubisky force the wheel to turn one way? Or will the biscuit crumble, sending the Bears down a road never travelled? It remains to be seen.